Budapest, the capital of Hungary, received its name in 1873 when two distinct cities merged together: Buda on the west side of the Danube river and Pest on the east. I was super excited to visit Budapest during my backpacking trip across Europe because I'm Hungarian! My maternal grandfather's parents were born in Hungary and immigrated to the United States in the early 1900s. My grandpa had a lot of stories to tell. So here's a list of what to see and do in this lively city…
Visit the Parliment Building
Budapest is the capital of Hungary, and the parliment building is one of the most well known in the country and a popular tourist attraction.
Visit the Fisherman's Bastion at sunset
This terrace on the Buda side of town overlooks the Danube river and gives you an amazing view of the city. The terrace has seven towers that represent the seven Magyar tribes that settled the area in 895. It was named for the fisherman's guild that provided protection to the castle wall.
Visit a thermal bath
With 1000+ hot springs running beneath its surface Hungary is a popular destination for thermal baths. They're believed to have healing properties, and the locals frequent them on a regular basis. We visited the Szechenyi Thermal Baths and they did not disappoint! Compromised of 18 pools, this spa complex is one of Europe's largest medicinal spas.
Eat Hungarian food
Visit St. Stephen's Basilica
This Roman Catholic basilica is named in honor of Stephen, the first king of Hungary, whose right hand is supposedly shrined within the church.
Walk by the Shoes on the Danube Bank memorial
This memorial is dedicated to the Jews who were killed in Budapest during WWII. They were ordered to take off their shoes and were shot at the edge of the bank so their bodies fell into the river below.
Walk across Szechenyi Chain Bridge
This suspension bridge crosses the Danube river and connects Buda and Pest. It was the first permanent bridge across the Danube in Hungary opening in 1849.
Visit the Buda Hills
The Pest side of town is very flat, but the Buda side is filled with hills and perfect place to get your steps in for the day.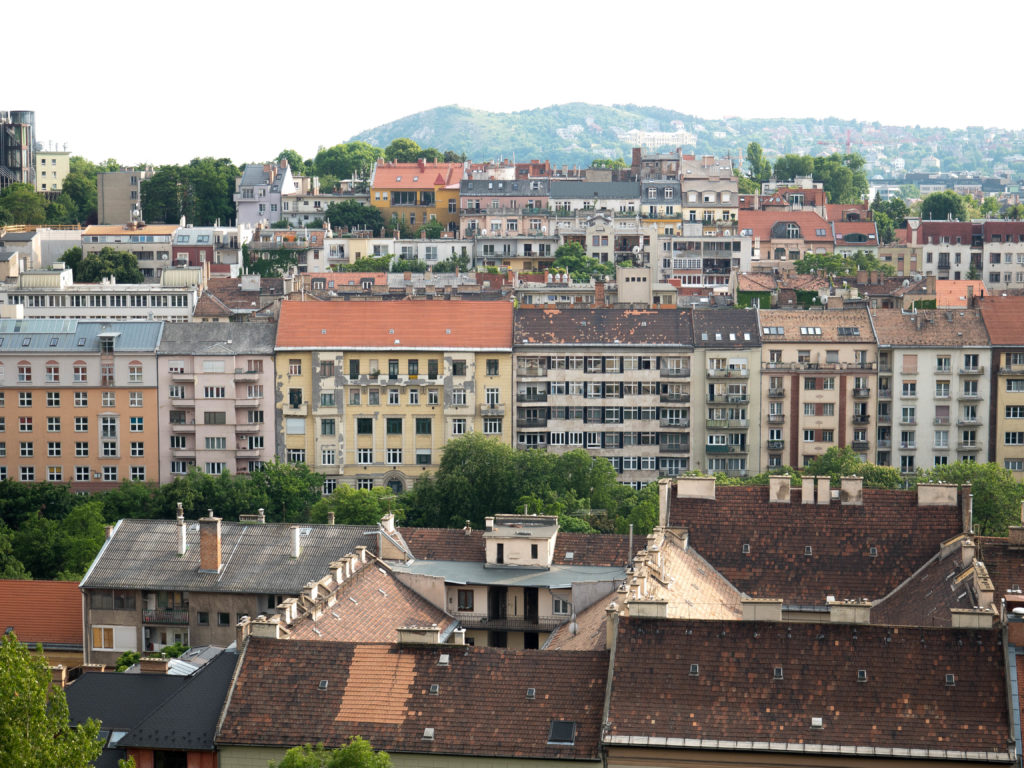 Have lunch at New York Cafe
I read about this cafe prior to my visit and after seeing pictures online I knew I had to go! It seriously has one of the most amazing interiors I've ever seen. It originally opened in 1894, but fell into disrepair after WWII. It was recently restored to its former glory in 2006 as part of a hotel, the New York Palace.
Have a drink at a Ruin Pub
"Ruin pubs" got their name in 2001 when young people were looking for cheap places to drink. As a result, some of the most popular and stylish bars around the city were born from abandoned buildings and outdoor spaces. Filled with mismatched furniture and random pieces of art, these places are really fun to explore and still sell cheap drinks! We visited Szimpla Kert, the cities first ruin bar.
Have Dessert
We all know I never turn down dessert. Here are some of the tasty desserts I sampled while in town.
That's all for now. Hope you enjoyed this post on Budapest, next up Slovenia!