So last fall I took a week off to visit some places on my bucket list that were closer to home including the Grand Canyon, Bryce Canyon, and Zion National Park. The idea for the trip came about when my friend Hannah invited me to her wedding in Saskatoon, Canada. After looking at the map I thought I can't be this close to Banff National Park and not visit! I'd seen so many pictures of all the beautiful lakes in the region and have been wanting to visit for a while now. So I took a mini detour and flew from Vegas (where I ended my American Southwest Roadtrip) to Calgary to visit Banff for a few days before heading to Saskatoon for the wedding.
If you want to skip to prices that's at the bottom, but here's my three-day recommended itinerary for the highlights of Banff…
Day 1
I landed in Calgary around 2:00 PM on Tuesday, September 3 and drove 3 hours to Golden, British Columbia where my Airbnb was located. Here's the link if you want to check out the place I stayed…
https://www.airbnb.com/rooms/23828559?source_impression_id=p3_1585605595_%2FPEMYi5P2PBKUVvh
Now if there's one piece of advice I would give when planning a trip to Banff it's plan early! Accommodations book quickly and can get really expensive. My trip was scheduled for early September and I didn't book my Airbnb until early July and there were very few options available in my price range for a solo trip. I absolutely loved the place I found, but it was an hour away from the National Parks. So I had to get up between 4:00-5:00 AM every morning to ensure I got a parking space and be there for sunrise.
Day 2
Lake Louise – Banff National Park
My plan for day one was to visit Moraine Lake and Lake Louise. I wanted to see Moraine Lake at sunrise, but the parking lot was already full before sunrise. I was shocked! I got up at 4:00 AM to avoid that, but oh well, that's part of the adventure. So I continued to Lake Louise and luckily found a space in the parking lot there. Tip: Get there early! I was lucky to get one of the last spaces available in the Lake Louise parking lot, if not, I would have had to drive to a remote lot and get a shuttle over.
So what was the experience like at sunrise? Well, Lake Louise has become very popular on social media (especially Instagram), so there were over 100+ people there at sunrise with their cameras. The scenery is absolutely beautiful so I get it, but if you're looking for a quiet serene sunrise this is not the place for you.
Moraine Lake – Banff National Park
Since the Moraine Lake parking lot was full I had to figure out a way to get over there from Lake Louise that didn't involve my car. Around 8:00 AM I noticed a booth set-up in the Lake Louise parking lot selling shuttle tickets over to Moraine Lake. I stood in line and was able to get a ticket for the early afternoon which was ~$10.
It's popular, so you can only get on the shuttle at your scheduled time. On the way back you just wait in line and it's first come first serve, but on the way over they are very strict about ticket times and every seat was full. So I spent the afternoon wandering around Moraine Lake and then drove back to Golden before sunset.
Update: As of 2020 you now need to reserve shuttle reservations in advance. They no longer sell them on the same day. https://www.pc.gc.ca/en/pn-np/ab/banff/visit/parkbus/louise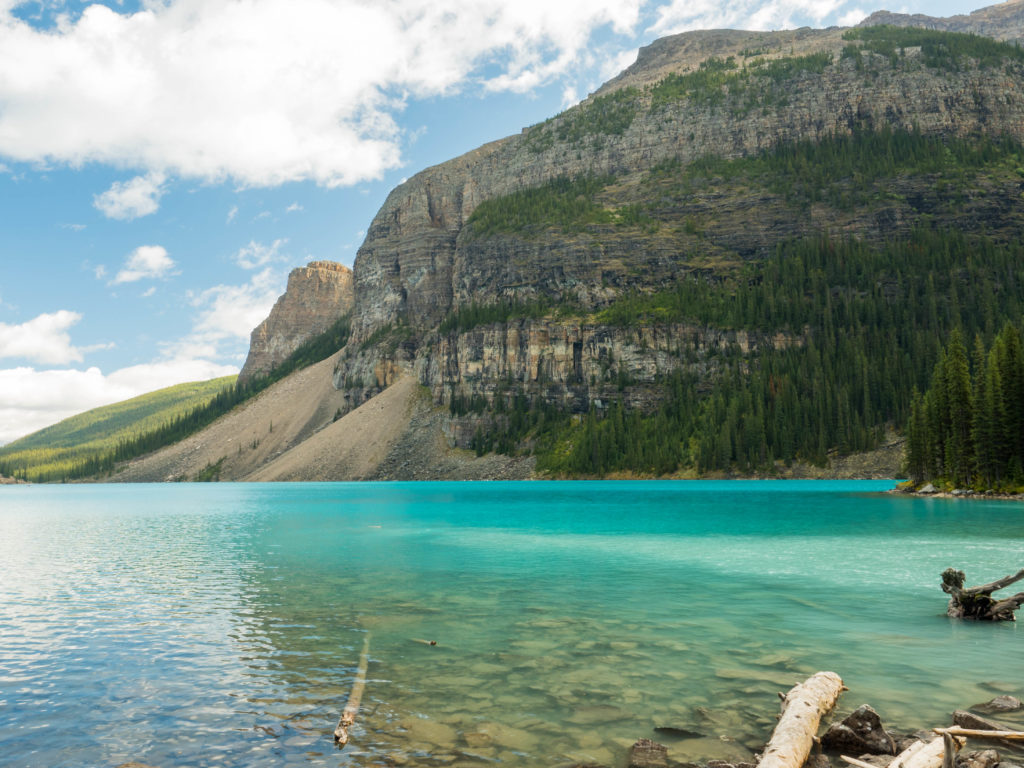 Day 3
Emerald Lake – Yoho National Park
My plan for day 3 was to visit Emerald Lake, Peyto Lake, and drive the Icefields Parkway up into Jasper National Park to see Athabasca Glacier. I decided on Emerald Lake for sunrise since it was only ~50 minutes from where I was staying in Golden.
Emerald Lake is not as popular as Lake Louise and Moraine Lake (yet), and when I arrived at sunrise there was no one around and I had the whole place to myself! I was pleasantly surprised after my experiecen the day prior at the overly crowded Lake Louise and Moraine Lake. It was so quiet and serene. I thought more people would arrive after sunrise, but it stayed quiet and the parking lot never filled up the day I was there. So I spent a little over an hour photographing sunrise, then stopped in at the cafe for some tea.
Peyto Lake – Banff National Park
After enjoying the sunrise at Emerald lake, I hopped in the car and made my way onto the Icefields Parkway. This parkway is a north-south highway in Alberta that stretches 166 miles! My next planned stop was Peyto Lake which was about an hour away from Emerald Lake. I got there early afternoon, and again, the parking lot was almost full. I was able to find a space, and I actually think you don't need to worry about not finding a spot here. You could always park on the side of the road and walk up to the trailhead.
It's a small hike to the overlook and the view is really amazing! You have elevation on your side and can see really far off into the distance here.
Icefields Parkway
From Peyto Lake, I got back in the car and continued north on the Icefields Parkway toward Jasper National Park. I pulled over a few times to take in the views and snap some pictures. There is no shortage of overlooks on this route, and it's hard not to want to stop at each of them and take some pictures.
Athabasca Glacier – Jasper National Park
I ended the day at Athabasca Glacier in Jasper National Park. It was listed as one of the top things to see in the area so I thought I'd just continue another hour up the parkway and check it out. This glacier is slowly disappearing so I'm grateful I had the opportunity to see it. The drive to the top of the mountain pass has some incredible views so it did not disappoint.
At this point, I was about 3 hours north from my Airbnb back in Golden, so I turned around and drove south down the parkway and headed back to Golden for the night.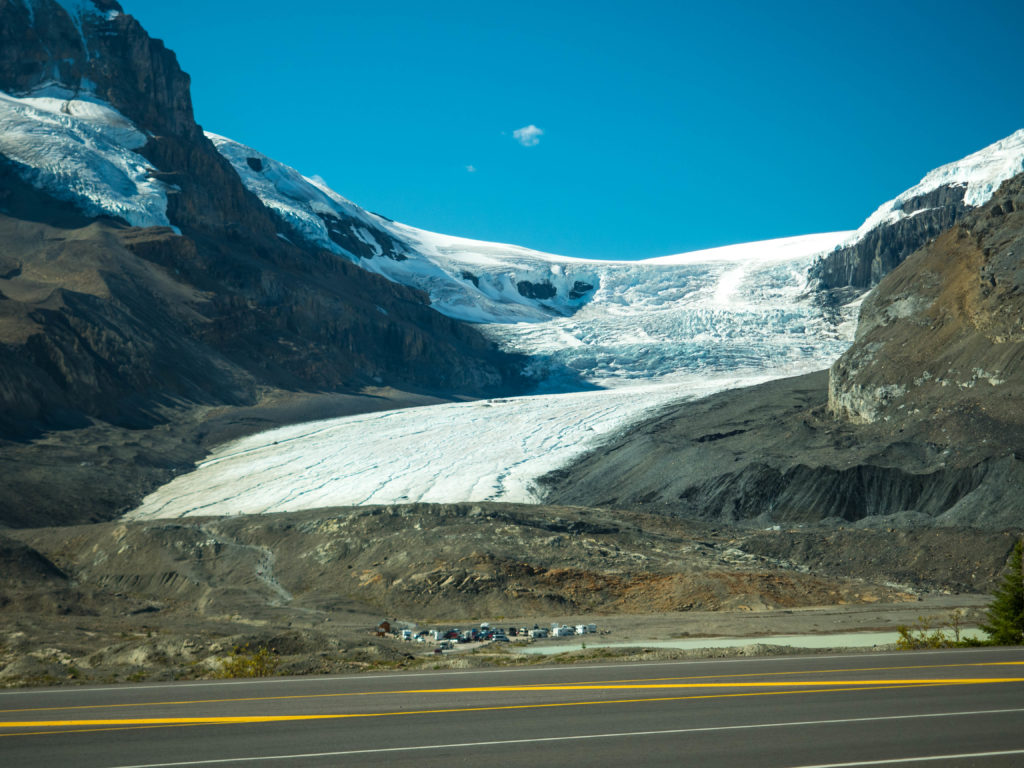 Day 4
On day 4 I drove 3 hours back to Calgary to catch my flight to Saskatoon for the wedding. It was a short and sweet trip, but I was able to see all the highlights on my list and more! With that said, I didn't even scratch the surface of things to do/see in the area. So I definitely want to go back and spend more time in the Canadian National Parks. Maybe in the winter when everything is covered in snow? I bet it's really beautiful.
Price breakdown
Okay, so here's the price breakdown. Remember this is for a solo traveler staying about an hour outside the National Parks. It would be more/less depending on where you fly from, how close to the National Parks you stay, and how many people are with you…
Flight from Vegas -> Calgary -> Saskatoon: $475 plus checked bags $52.80
Rental car 4 days: Alamo: $86.00
Airbnb in Golden: 3 nights: $405
Park pass for 3 days: one adult: $21.00
Food: $130 (This is probably on the cheaper side (no alcohol), and mostly from the grocery store and cafes.)
Total 3 nights/4 days: $1237
Okay, that's all for now. Stay tuned on more posts from my recent trip to Southeast Asia!