Goodbye 2020, hello 2021! I'm back. What a year. Maybe I'll write a 2020 recap post about the current global crisis and these "unprecedented times" (phrase of the year?) so I never forget how it felt to live through a world pandemic. March 2020, we will never forget.
Anyway, I finally found some motivation to upload my pictures from my trip to Southeast Asia last year that I took on my Olympus camera. I took most of my photos on my iPhone 11 actually, so I didn't really use my Olympus camera much this trip. But I did use it during my two days at Angkor Wat because I wanted to make sure I had some good quality photos.
Trip details
I booked the trip with my favorite travel company Intrepid Travel. To date I have done trips with them to Europe (2017), Peru (2017) & Morocco (2018). They never disappoint and I can honestly say these are the best experiences of my life. I'm so grateful for the financial stability and time off to travel and see the world. It's my dream come true.
Here are the links/screen shots of the trips I combined for this trip. I did the 30 day Southeast Asia Loop and then added the 4 day Sail Phuket to Ko Phi Phi at the end.
I find if you're going to fly half-way around the world you might as well stay awhile. That's just my philosophy. I was gone from January 16, 2020 to February 20, 2020. I got back just in time for the world to shut down. If I had come home two weeks later I would have had to quarantine for 14 days upon arrival.
https://www.intrepidtravel.com/us/vietnam/south-east-asia-loop-126715
https://www.intrepidtravel.com/us/thailand/sail-phuket-ko-phi-phi-132204
The idea for this trip was actually born out of my desire to visit Angkor Wat. Then it spiraled into well I can't visit Cambodia without going to Vietnam… and if I'm going to be in Vietnam I might as well see Laos and Thailand… and man those Thai islands look amazing that would be a perfect way to end a trip! So I found a way to make it all work.
Angkor Wat Temple
Angkor Wat is s Buddhist temple complex located in Siem Reap, Cambodia. It was founded initially as a Hindu temple but was then transformed into a Buddhist temple by the late 12th century.
The Coronavirus outbreak was just becoming world news when I arrived in Thailand for the start of my trip on January 16th, but at that time everyone thought it was confined to China so I wasn't concerned at all. By the time I got to Cambodia 3.5 weeks later it started to spiral out of control and many tourists cancelled their trips to Asia as a result. I still wasn't concerned at this point because there were very few reported cases in Southeast Asia at that time.
Since I was already there it actually benefited me because the crowds were minimal and I went during peak season so normally it would have been very crowded.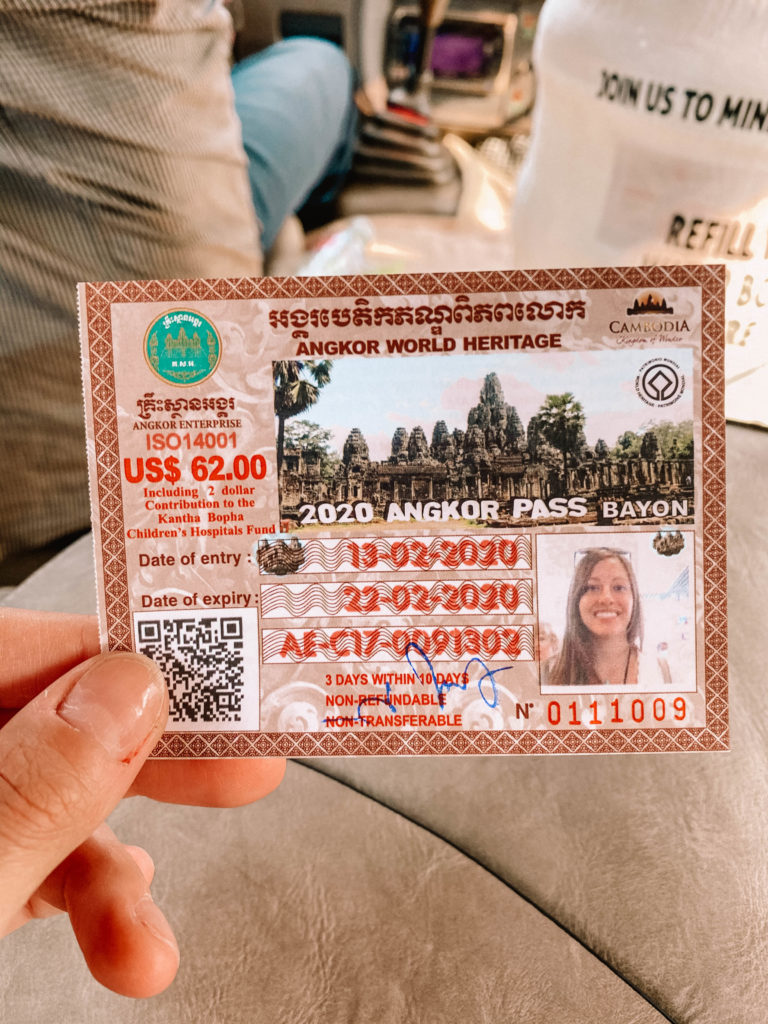 COST: A three day pass was included in my trip cost, but as you can see it's $62.00 for three days and you have 10 days to use it after your first trip.
When you first arrive at the temple complex you are greeted by a moat filled with water and very picturesque water lilies.
Angkor Wat is the world's largest religious structure covering over 400 acres. There are over 1,000 buildings in the complex.
TRANSPORTATION: You can't walk between the temples due to distance. You either need to pay for a driver (car or tuk-tuk), rent a bike/motorbike or join a tour. If you can afford it pay for a driver with air-conditioning. You'll thank me later.
I was with my tour group so I didn't have to figure out the logistics of that on my own. We traveled between complexes in two vans and hit all the highlights in two days which was great.
Selfie to prove I was there!
These intricate wall carvings were so well preserved. Really cool to see.
ATTIRE: Make sure you dress appropriately for the temples. It's a religious site so you are required to cover your shoulders and knees or they will deny you entry. It's hot and humid so a skirt is a plus since it's nice and breezy. Also bring a hat and snacks.
I'd also recommend closed toed shoes since you'll be walking on dirt and climbing a lot of uneven surfaces.
There is a steep ladder that you can climb to gain access to the top tier of the temple. I'd definitely recommend waiting in line to go up because the view is well worth the wait! You get a 360 degree view of the surrounding area and it really puts things into perspective.
Can you spot me? Again, hardly any tourists around. It was really a unique experience to be somewhere that is normally so overcrowded with tourists and experience it in it's more natural state.
Angkor Thom – Bayon Temple
TRANSPORTATION: Angkor Thom is about a 10 minute drive from Angkor Wat. A must see is the South Gate to the Bayon Temple. This was one of my favorite photos from the entire trip actually. It really does look like something out of an Indian Jones movie.
All the faces are different.
Bayon temple is unique for the over 200+ faces carved into the stone. If you look closely the faces are carved in all four directions.
Here's a close up.
Here is a picture of our tour leader (we called him "PK" for short since it's hard to pronounce his name in Cambodian) explaining the wall carvings to the group.
He was actually a survivor of the Cambodian genocide that took place in the 1970s. He was a young child at the time and most of his family were killed or died of starvation during that time. After everything he went through he is seriously one of the most happy and positive people I've ever met. I think it's because he doesn't take one day for granted and he very much lives in the moment.
Meeting him was pretty eye-opening for me because I tend to dwell on the past and get anxious about the future. One of my goals this year in 2021 is to be more mindful and enjoy the present moment. Let go of control and not worry so much about what I don't have and be grateful for everything I've already accomplished. I think Coronavirus has forced us all to slow down and appreciate the simple things in life.
Here's a picture from one of our last nights together with some of the group. From left to right: Jane, Verity, me, PK, Matt, David & Erin.
Banteay Srei Temple
TRANSPORTATION: Banteay Srei Temple ("Citadel of the Women"), is about a 30 minute drive from Angkor Wat. It was built in 967 and restored in the 1930s.
Our guide PK asked if we wanted to go somewhere off the beaten path to visit our last temple of day one. We all agreed that would be great and that's how we ended up at Bantreay Srei.
Now this temple was not on my radar at all prior to the trip and I'm so glad PK recommended we see it. A perk of joining a tour group or visiting with a local is that they know the best spots to take you. You can only do so much research ahead of time on your own, and even then some of the best experiences tend to be the ones you never expected.
This temple is known for the intricacy of its stone carvings. Virtually ever surface was covered in these intricate carvings. Really cool.
I love this close up shot. Really lets you appreciate the detail.
This temple is also known as the lady temple, tiny temple or pink temple. It's much smaller compared to the grandness of Angkor Wat, but it really stands out and I'd definitely recommend a visit. It was built from red sandstone so it has a pink-ish hue.
The temple is mostly dedicated to the Hindu god Shiva, as well as Vishnu.
Alright, that's it for day one of my two days spent at Angkor Wat. Hopefully it won't be another year before I get around to posting day two. It was just hard to find motivation to look through travel pictures in 2020 with no end in sight. I'm hopeful for another international trip at the end of 2021 (COVID pending obviously) and that's giving me the motivation/inspiration to keep looking forward! Thanks for reading if you made it this far. Leave me a comment below. 🙂